Conventional farming uses Synthetic Chemicals as nutritional inputs which has been leaving adverse effect at an alarming level both on the local environment and global climate .
N
(Nitrogen)

UREA, Ammonium Salts etc High energy particle,
kills living organisms in soil
P
(Phosphorus)

Super phosphate, DAP etc Results drop in oxygen level
in water of rivers, lakes.
K
(Potassium)

MOP, SOP etc Used as gunpowder
during World War
Pesticides & fungicide with their ever-increasing "toxic" footprints are
ENDANGERING THE LIVES OF FARMERS
CAUSING HEALTH HAZARD TO CONSUMERS
LEAVING TOXIC RESIDUES IN AIR, WATER & SOIL
REDUCING SOIL FERTILITY resulting in INCONSISTENT PRODUCTIVITY
CAUSING DEATH OF MANY BIRDS, FRIENDLY INSECTS & AQUATIC SPECIES
The need of the hour is to replace coventional mode of agriculture with sustainable model that meets human needs and leaves a richer environment for the future of humanity.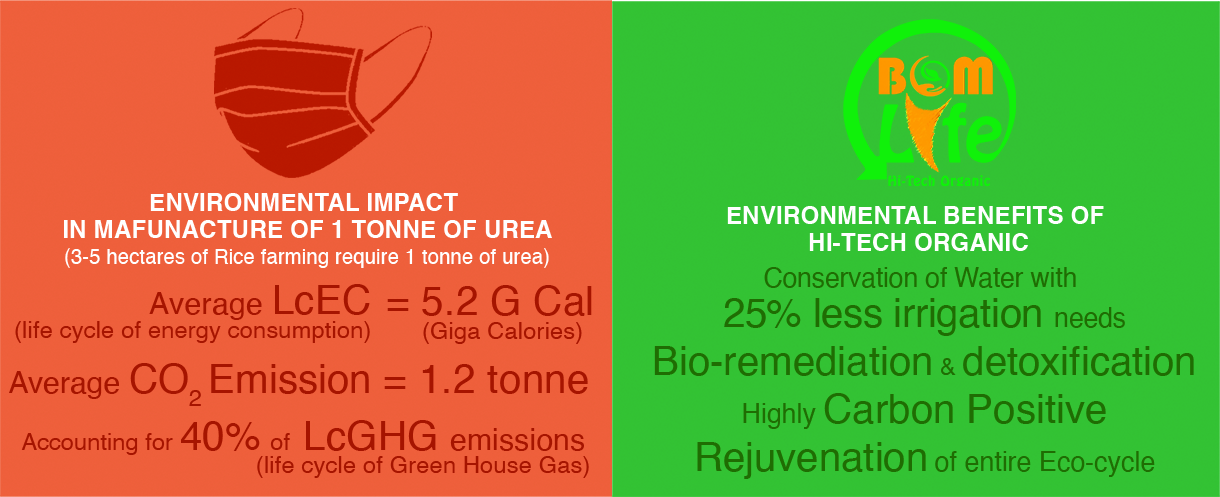 TIME TO STOP USE OF UREA

&

SWITCH TO HI-TECH ORGANIC
In nature's own design microbes are the source of life. These invisible workforce hold the key to soil fertility & productivity balance of pests & friendly insects in our farmlands.
Our technology involves mobilization of microbes and the soil ecosystem. So unlike resource based solutions like compost, algae or amino acid extracts ours is sustainable and energy efficient